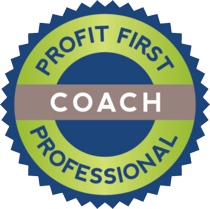 You should expect a business coach to have direct experience in navigating the challenges you're facing in your business. But how many coaches also drive your profitability as you surmount these challenges? That's what we do. We are a Profit First certified firm.
Sapphire Collaborative utilizes the Profit First method of cash management that was formulated by author Mike Michalowicz.
Our firm is one of the select few, nationwide, that have achieved certification in Profit First. What does this mean for you? In addition to our our website services and our coaching services, we will guide you with the methods to greatly increase the profitability of your business.
To-do lists that require you to change your behavior have proven to be extremely ineffective. Our process puts "behavioral guardrails" in place that allow you to achieve your objectives by NOT changing yourself.
The result is fluid, comfortable growth and increased profits. Give us a call at 973-413-8211 (
or send us an email
) for a free consulting session. No strings attached.